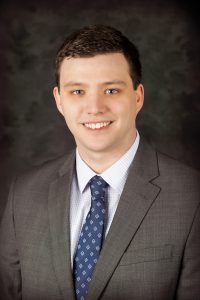 Cody Smith
Attorney at Law
One Easton Oval, Suite 340
Columbus, Ohio 43219
Phone: 614.414.0888

Cody Smith has been with Emens Wolper Jacobs & Jasin Law Firm since 2015. His primary areas of practice include estate planning, pipeline right of ways and easements, and mineral rights disputes under Ohio's Dormant Mineral Act.
Mr. Smith regularly conducts research regarding various issues in Ohio oil and gas law. He recently was selected for publication in Capital University Law School's Law Review Journal for his article, "Developing Adverse Possession of Severed Mineral Estates in Ohio."
Mr. Smith was admitted to practice law in Ohio in 2015. He is a member of the American Bar Association, Ohio State Bar Association, and Columbus Bar Association.
Mr. Smith received his Bachelors in Science with honors from Marietta College where he majored in Mathematics. There he also received minors in Physics, Political Science, and Philosophy. After undergraduate school, he received his Juris Doctorate with honors from Capital University Law School where he was a member of both the Law Review team and Order of the Curia. Cody also assists landowners with various probate matters including transfers of oil and gas to other generations.