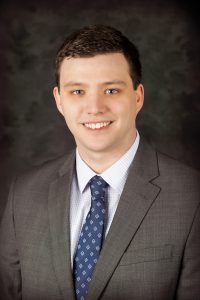 Cody Smith
Attorney at Law
One Easton Oval, Suite 340
Columbus, Ohio 43219
Phone: 614.414.0888
Fax: 614.414.0898
Email: csmith@ewjjlaw.com
vCard: Click Here!

Cody Smith is an attorney with Emens Wolper Jacobs Jasin Law Firm whose primary area of practice is real estate law. Cody is part of EWJJ's Landowners Group with experience in a wide array real estate matters including negotiations of solar leases, oil and gas leases, pipeline and utility easements, surface use agreements, water line agreements, and other agreements related to oil and gas. Cody also conducts royalty reviews for landowners and analyzes competing claims to ownership of oil and gas under the Ohio Dormant Mineral Act and the Ohio Marketable Title Act.
Cody is a member of the American Bar Association, the Ohio Bar Association and its Environmental Law and Real Property Law sections, and the Columbus Bar Association. He is also a member of the Ohio Chapter of the National Association of Royalty Owners, the Energy and Mineral Law Foundation, and the Ohio Farm Bureau.
Cody earned his Bachelor of Science with awards and honors in Mathematics with minors in Philosophy, Physics, and Political Science from Marietta College in Marietta, Ohio.  He earned his Juris Doctorate with awards and honors from Capital University Law School, in Columbus, Ohio.
Prior to moving to Columbus, Cody lived in Guernsey and Noble Counties in eastern Ohio. In his free time he enjoys trying new restaurants, seeing movies, and going to concerts. Cody also assists landowners with various probate matters including transfers of oil and gas to other generations.